With more and more couples planning non-traditional weddings, the rule breaking has even extended to the bridal shower. Couples wedding showers are becoming more common (and more fun)!
So, What is a Couples Wedding Shower Exactly?
Essentially, it's your chance to throw a giant, coed party before the wedding. A bridal shower typically involves only the bride and her girlfriends, whereas a couples shower involves both sets of family and friends.
Invite any and everyone! Leave no friend uncalled, no distant cousin without an e-invite! Keep reading for tips on how to throw a memorable couples shower with the proper couples wedding shower etiquette.
Select The Type of Couples Shower You'll be Hosting
If you're throwing a cool and casual wedding, the idea of having a coed wedding shower may be for you.
If you're going a more traditional route, you can stick to the typical wedding shower events like making a wedding registry and receiving gifts from your guests.
Or you could choose a more non-traditional option, newer to the United States, by throwing a Jack and Jill wedding shower (also known as Stag and Doe). In this type of shower, guests pay an admission fee that contributes to your overall wedding budget.
With these two choices, you'll need to decide if you'd rather get new hand towels and kitchen knives, or money to go toward your reception and ceremony. Decide what kind of couples shower you'd like to host and you'll have a clearer idea of how to plan it.
Pick a Theme
Once you figure out what type of shower you want to throw for your guests, the next big decision that will drive the rest of your party planning will be your couples wedding shower theme. This is the really fun part, so use your imagination and show off both of your personalities!
Here are a handful of couples wedding shower themes to get those creative juices flowing:
Red Carpet Event
Encourage guests to come dressed up as a celebrity or celebrity couple! Roll out the red carpet and have everyone walk across it as they arrive. Allow a few close friends to pretend that they're the paparazzi by taking pictures of guests as they arrive. Consider having a backdrop with the bride and groom's names (and wedding date) for people to take pictures in front of. You can even award prizes for the best costumes and hand out your own version of an Oscar or Grammy!
Pool Party
Bust out those inflatable pool toys! Instead of traditional couples shower games, you could dive for rings, play pool pong, or have a cannonball contest. Whatever floats your boat! Sunglasses with the names of the bride and groom printed on the side make for cute party favors too.
Game Night
Use Scrabble letters to make signs and have an assortment of board games for everyone to enjoy. Guests can break off into smaller groups based on which games they'd most like to play. For individual board games, you can have a "bride" and a "groom" team and keep score of how many games each team wins for an extra competitive edge!
Tailgate
Find an athletic event to go to and have a tailgate party beforehand. Try to get tickets in the same section so everyone can sit near each other. Or host a kickball or wiffle ball game in your backyard or local park and have a tailgate before or after.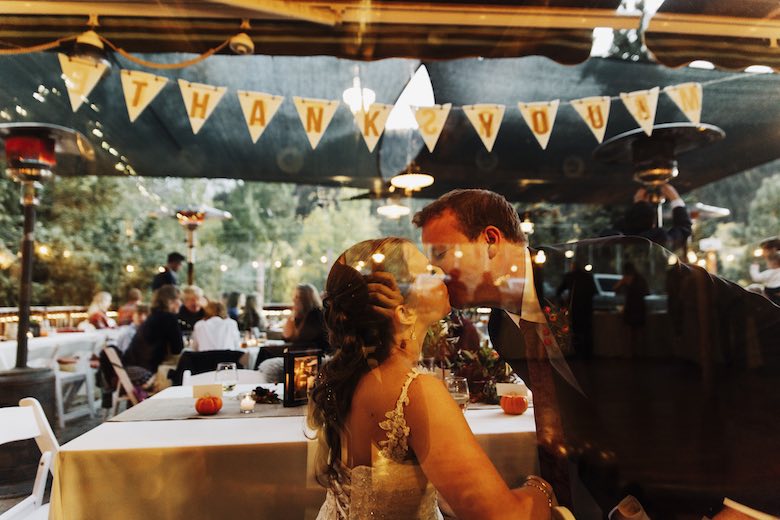 LumberJack & Jill
This is great theme if you're trying to throw a Jack and Jill party! Encourage your guests to wear flannel and set out treats like s'mores and spiked cider. Give everyone enough notice prior to the shower that you will have a "best beard" contest (these things take time).
Chef's Special
You can even let your choice of food help you pick your couples shower theme!
"I Do BBQ" – Grill out in your backyard and enjoy the fresh air
"Nacho Average Wedding Shower Fiesta" – Who wouldn't like a nacho bar and margaritas?
"Love is Brewing" – Enjoy some "brews before I do's" at a local pub or brewery
Play Games
Guess Who, Bride or Groom?
Get involved in the couples wedding shower games with a fun, wedding-themed spin on the classic "Guess Who?"
Start with a series of questions about your relationship. Print out cards with symbols representing both the bride and groom. Guests then circle the symbol depending on who they think the question is about.
For example, you might ask, "Who said 'I love you' first?" If guests think it was the bride, they would circle the high heel; if they think it was the groom, they would circle the bow tie.
Put A Ring On It
For a game that will last the entire shower, consider playing "Put A Ring On It." Here's how it works:
Get a bunch of fake rings or even better, candy ring pops!
Have each guest start with a ring. If any guests say words like "wedding," "bride," or "groom," their ring can be taken away by another guest that catches them saying it. Whoever has the most bling by the end of the shower gets a prize! Keep in mind your guests' tastes and sensibilities to help you pick the right games for a memorable event.
Go the Extra Mile
Consider having alternative activities planned for people that aren't interested in watching the gift opening.
Add simple, creative touches beyond fun games and good food that will set your couples wedding shower apart. Here are a few ideas:
Create Tickets for Guests
If you choose to go with the Jack and Jill (or Stag and Doe) couples shower, where guests pay to attend your party, have admission tickets printed for guests. It makes the admission process more fun, as if they're attending a festival or sporting event that they paid to attend.
If you print admission tickets, it makes it easy to host a bonus raffle. The prizes should be related to your theme, such as movie theater tickets, a gift card to your favorite BBQ joint, a bucket of beer, or tickets to a sports game.
Be Mindful of Your Budget
Having a wedding budget is important, and we highly recommend using a wedding budget checklist. Here are a few aspects of your couples shower where you can easily trim your spending.
Decorations
It's not hard to spend too much money on wedding decorations. Get inspired by our effortless decor hacks, and browse online swap n' shops for a ridiculously good deal.
Invitations
Go paperless (and save some cash) by doing e-invites instead of traditional paper invitations. Facebook events work great too. You can create fun polls or post pictures within the event to engage guests and get them excited!
Alcohol
Ask your party guests to chip in or bring their favorite alcoholic beverages to share and to lower costs. This will also make for a fun conversation starter as everyone tastes the variety of different drinks! Consider having the bride and groom select their own "signature drink" as an option for guests to enjoy during the shower. As always, keep it thematic!
However you choose to host your couples wedding shower, be sure to make it as unique as possible to match your personalities, and make it memorable. But most importantly, make sure you and your guests have fun!
Now that you have a better understanding of trendy couples wedding showers, take a look at our 9 New Wedding Trends for 2018. Don't miss out on our daily wedding inspo feeds on Twitter and Instagram!