Guests play a big role in your wedding – and with many coming from near and far, it's a sweet (and important) gesture to prepare small tokens of appreciation to hand them at your reception. Plus, not only will these favors serve as reminders of your special day, but they'll also show how you appreciate the time they spent coming to celebrate with you as you start a new journey with your spouse.
Figuring out how to plan your own wedding can be a challenging task with so many things to plan out (including the minutiae, such as wedding favors), but not to worry – we have the perfect guide for you! We've outlined 10 sweet wedding favors that are not only unique, but ones that your guests will appreciate (because they're useful too)!
1. Mini Bottles of Essential Oil
Bottles of essential oil that resemble the flowers or scents used at your ceremony are perfect gifts for your guests. Not only are they practical, but they can also replicate the aromas that were present on your wedding day. Ashley from AH+M Strategic Consulting provided each of her guests with Lavender Essential Oil as a token of her appreciation.
2. Personalized Cloth Napkins
Originally a Greek-American tradition, Aliz from Eleni's New York laid a cloth napkin for each of her guests on their plate. It's a simple item that can be personalized with your and your spouse's name and wedding date. Plus, it adds a nice finishing touch to your table decor and your guest can use them on the go.
3. Cool Local Coffee Packets
Coffee is an essential part of most people's day, so why not provide each of your guests with a packet? It may be a common item, but it's one that your guests should definitely appreciate. In addition, you could also support your local coffee establishments with your business, so it's a win-win situation.
4.Taxi Vouchers
For those thinking about having an open bar reception, it's always a good idea to offer some form of transportation for your guests, such as a taxi voucher or an Uber. Not only are you creating a safe environment for your guests, but you'll be seen as a responsible couple who thought things through. You'll also be ensuring that everyone gets home safely, which matters most at the end of the day.
5. Customized Can Koozies
If you're serving canned drinks for your reception, consider providing customized koozies for all of your guests. To make them special, you can personalize each one with your wedding date or something quirky pertaining to your big day.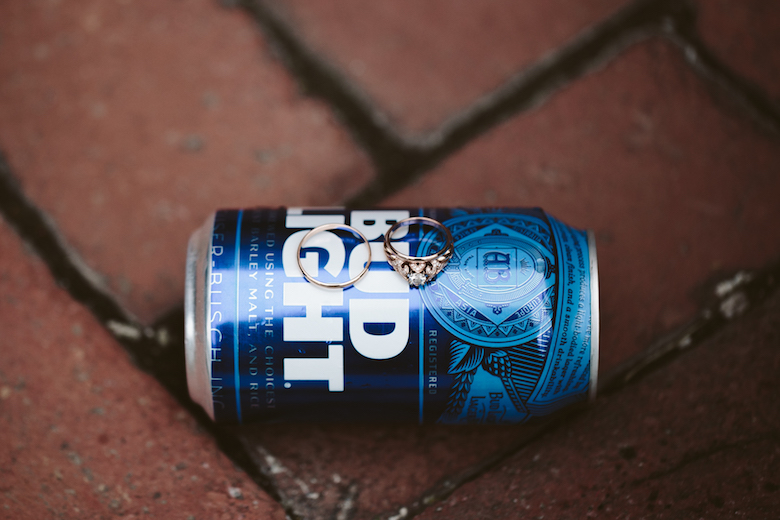 6. Printed Photos from Your Smartphone
We hear a lot about having photo booths, but a twist on that idea is to take those pictures on a smartphone and have them printed out to be kept as a souvenir. All you need are a couple of Bluetooth/wifi printers, so you'll be able to ditch the typical photo booth backdrop. It's creative, exciting, and perfect for those that love to indulge in taking selfies. Try using a fish-eye lens to get even more fun shots for your guests! Just clip it on your phone camera and you're good to go!
7. Cute Mini Olive Oil Bottles
Though olive oil may sound a bit ordinary, it can make for a very classy gift for your guests. Try storing it in small, personalized bottles to make it not just a practical wedding favor but a memorable one too!
These cute bottles can be reused or stashed as wedding memorabilia once the oil has been used up.
8. Exotic Loose Leaf Teas
Similar to coffee, tea is also a hugely popular drink consumed by millions everyday, and it can also make for a great wedding favor. Opt for loose leaf tea rather than regular tea bags to give that unique touch. Provide a few different flavors so that guests can have a couple to choose from!
9. To-go Treats
Perfect for those with a sweet tooth, candy and chocolate have the power to make anyone's day. Set up an array of desserts with to-go bags so your guests can package their favorites and take them home! This idea embraces the growing "self-serve" trend at weddings, which is easier for you to manage and gives your guests something fun to do too.
10. Succulents / Mini-Plants
Tiny plants such as succulents in decorative pots make great wedding favors. They live a long time, and symbolize the strength and timelessness of your love. They also don't require much care, making them good, low maintenance gifts.
Have any more great ideas for wedding favors? Let us know in the comment section below! Also, don't forget to follow us on our Instagram and Pinterest page for more wedding ideas and inspiration!