There are countless aspects of your wedding day that need to be planned in advance. One of the most important, though, is getting everyone from Point A to Point B. Even if your wedding transportation plans only involve the bride and groom, wedding party and immediate family, your related costs can climb quickly.
We've put together 12 wedding transport tips so you can save thousands of dollars on your wedding transport. The best part is that you can use the money you save setting up for your future together, or even splurge on an exciting honeymoon!
1. Book as Far in Advance as Possible
Like any other type of rental, wedding transport gets cheaper the further in advance you book. This is especially the case if your chosen mode of conveyance is in low supply (e.g. specialty vehicles and vintage cars). Start visiting the websites of rental companies months in advance to compare their best prices.
2. Don't Pigeonhole Yourself to a Single Company
Recommendations from friends and family are the most trusted form of marketing out there, but don't just resign yourself to working with a specific company. You certainly get what you pay for when it comes to wedding transport, but just because one company isn't as expensive as another doesn't mean it's inferior. Look at several companies' pricing and online reviews to save a ton.
3. Keep a Strict Schedule
No one wants to rush their wedding day, but if you have specific times set up for the ceremony, reception, and any other wedding day event, you can save money on your transport. This is because you're not only charged for the ride – you're also charged for waiting time. You could end up paying an extra $150 for every hour your drivers are sitting around.
4. Consider a Wedding Bus or Van
It's understandable that you want your wedding transport to stand out, but you should look beyond cars if you really want to save. From a vintage VW van to luxury bus rentals, you can still have everyone travel in style while putting entire groups in a single vehicle. Specialty buses that carry a dozen people are typically less expensive than luxury cars that only carry two.
5. Rent by the Hour
Some people try to avoid paying for "wait time" by renting vehicles for the entire day. While this means no clock watching, it's also going to be much more expensive. If you rent by the hour, you're only going to pay for the time you actually use. After all, why should you be paying a driver to play Angry Birds in the parking lot when they can just show up after the reception?
6. Check Policies in Advance
When doing business with any company, you want to understand all of their policies. This is especially the case for wedding transport companies. There are a variety of fees you may come across. These include cleaning, unscheduled stops, road tolls, driver gratuity and many others. If two companies offer similar services and prices but one has several potential fees, using this information in your decision can save hundreds.
7. Don't Be Afraid to Negotiate
We're used to walking into a store, seeing a specific price, and paying exactly what is printed on the sticker. Of course, we don't hesitate to haggle with car dealers, so why wouldn't you try this with wedding transport companies? They're often willing to lower their prices if you book a certain number of hours or received a better price from their competition. Learn how to negotiate effectively and reap the rewards!
8. Make a Grand Entry or Getaway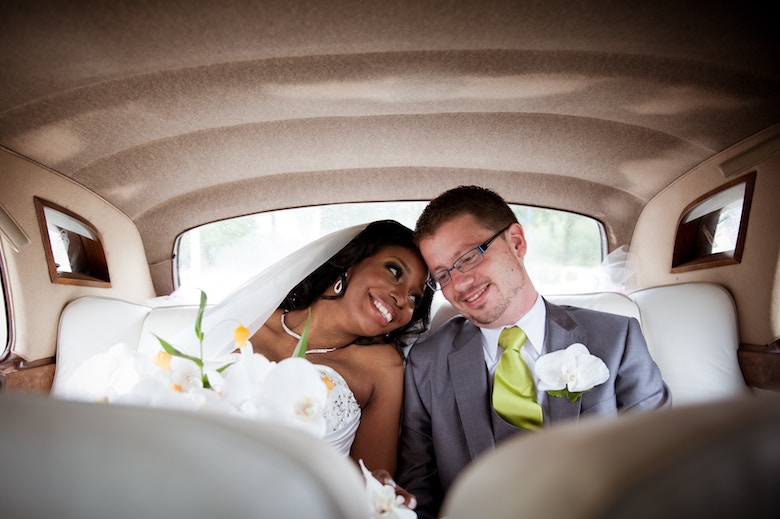 Most people want to either make a grand entry or spectacular farewell on their wedding day. If this is the case, there's no harm in renting wedding transport for only your arrival or departure. If you want to ride off into the sunset in a Rolls-Royce just for the photo opportunity, for instance, what's the point in renting the car for five hours?
9. Consider Other Events in Planning
If you're looking for wedding transport and your special day's rental prices are twice their normal rate, your wedding may coincide with other local events. Anything from proms to music festivals can inundate rental companies and cause their prices to rise. Heavy traffic can also cause higher rental fees. Take this into account when planning for specific days, and consider schedule alterations to reduce rental hours.
10. Don't Get More Than You Need
If your heart is set on a certain company but their prices are a bit too expensive, look into the extras you may unknowingly be paying for. Limousines and certain buses come with food service and fully-stocked bars. These little extras can quickly add up, even if you don't take advantage of their presence. Take the time to learn what you're paying for, and pass on anything unnecessary.
11. Use the Same Location for Ceremony and Reception
One huge area you can save money on wedding transport is the commute from the ceremony to the reception. If you book these events at the same place, there will be no need for your driver to wait on site. Additionally, you'll save hundreds by not booking multiple venues!
12. Ask for Older Models
Wedding transport vehicles depreciate over time. This often results in lower rental prices for older model transport. Don't be afraid to inquire about lower cost models. If the company is reputable, they've taken great care of their fleet and you'll have nothing to worry about.
Whether you're heading to the ceremony, reception, or even the airport afterward, wedding transport involves some of the most important logistical issues you'll come across. Fortunately, there's no shortage of companies to choose from so with the aforementioned tips and a little homework, you can ensure that your pockets aren't empty after your special day.
Got any questions or ideas of your own? Let us know in the comments! Also, don't forget to check out the pictures and videos on our Facebook and Pinterest pages for more wedding inspiration!