Congratulations on the great news! It's wonderful that you have decided to embark on this exciting journey with your partner! In order to ensure that you get everything you need in plenty of time, we will be here to help you plan your wedding every step of the way.
We have created this step-by-step guide with your needs in mind with each step setting you up for the next. By following our wedding planning guide, you can feel confident that everything will fall into place perfectly. If you want to do a step out of order, don't worry! We still have you covered. You can also refer to our helpful Wedding Checklist that simplifies the planning process.
We would really love to know your progress as you go through this exciting time! Keep us up-to-date in the comments – we might even have some ideas if you are struggling or debating.
1. Make the Engagement Announcement!
There will be a few different groups that will want to hear the wonderful news, but some people should be handled with care. Your parents and other close family members will want to hear the news directly from you. If your family lives far away, even a special phone call will do.
For the rest of your extended family and friends, it is up to you how you wish to spread the news. Today, one of the easiest ways that people share their engagement announcements is to post on your social media. You can even have some fun with this and create your own hashtag for your wedding! Whichever way you choose, it's good to get everyone's attention so they can be on the lookout when you actually set the wedding date in the future.
2. Pick a Wedding Season
Picking which season you want to hold your wedding is helpful for two reasons. First, knowing which season you will have your wedding ceremony will give you a better idea of how much time you have to plan after the engagement announcement. Second, if you live in a temperate climate with distinct seasons, choosing the season to have your wedding can help you with the next important step – the theme.
But deciding the best season or month to get married might not be as easy a decision as you think. Each season comes with its own benefits and challenges, and one of the biggest influences on these is the region you live.
Although many sources will say that June is the most popular month to get married, the graph below by Priceonomics paints a different picture.
As you can see, the most popular time of year to get married largely depends on where you live in the US. Those living in the South quite obviously differ from the trends in the other regions with a large dip in marriages between June and October when the summer months can be too hot to have a comfortable wedding.
Overall, the popularity to get married in all regions begins to rise after the July heat and peaks between the cool autumn temperatures of September and October. According to these findings, Autumn is the most popular time to get married due to its moderate temperatures and beautiful fall colors.
If you are planning a Fall wedding, be sure to book a venue as soon in advance as you can and beat the rush!
3. Decide Your Wedding Theme
If you have already decided on a season, this could come in handy when you are picking what you want your ceremony to look like. Gather inspiration from everywhere you can – magazines, books, blogs, and other wedding photos – and put them together on an inspiration board. Once your inspiration board comes to life, you will have a much clearer vision of what you want your ceremony to look and feel like.
Here are a few popular wedding theme ideas:
Summer has always been a popular season to get married because the weather is nice and warm with a much lower chance of rain than Spring or Fall that would really put a damper on an outdoor wedding.
With nice sunny days and warm nights, you have every option available to you. Whether you want a wedding in a barn, by the lake, or reception in a lawn, choosing this season will be conducive to whatever you choose to do.
Aside the from the moderate temperatures, harnessing the full bounty of Autumn's colors will bring you an unforgettable wedding theme. You decor can bring in all the yellows, oranges, reds, and bright pinks that explode in the Fall.
And when it comes to your reception, there is nothing nicer than taking a stroll through a cool Autumn evening so an outdoor reception is not out of the question.
Spring can bring an eruption of color and life to your wedding theme. Be inspired by the colors and scents around you from all the wild flowers and trees. See if you can include the exuberant spirit of springtime when you are deciding how to decorate your Spring wedding.
A Winter wedding should not be overlooked. The chilled air and snowy landscape will bring a romance and elegance to your wedding theme that no other season can offer. You can incorporate crisp whites and shining decor to really create a dreamy winter wonderland for your nuptials. Plus, it won't be nearly as difficult (or expensive) to book the venue of your dreams.
Beyond choosing a theme based off a season, you could also consider a theme that reflects the place you will get married whether you choose a destination wedding to another city or even another country; or you really have some fun and decide to take the occasion to a coast for a laid back beach wedding.
4. Discuss How to Fund Your Wedding
This might be the most important step of them all. Having an idea of how much you will be willing to spend will dictate a lot of the decisions are coming your way. Traditions are not the same today as they used to be. It's not as common for the bride's parents to pick up the whole bill. This means it will up to the couple to decide their own bottom line. Have a discussion with both sets of parents to see if and how much they are willing to contribute. Once you have a better idea of where the funds will be coming from, and you are positive these are reliable sources, you can then start thinking more about where these funds will be allocated.
5. Set Your Wedding Budget
Setting a budget needs to come early on in the planning process because this will determine a lot of the decisions down the line. The cost of a wedding can fall within a very large range, but no matter what your wedding budget may be, this is typically how the money is divided. Of course, these are still just estimates to use as a guide and can be adjusted where ever you see fit to do so. For example, you might want to spend more on flowers and a bit less on your wedding dress, or more on food and less on the venue. You and your partner can each discuss your own visions for your wedding, and see if you can each get what you want. Remember, marriage is all about compromise!
6. How to be Organized
This piece of advice can not be stressed enough. You've sorted your money and set your budget. From now on, there will be an increasing amount of things to juggle. Planning a wedding is not a small task and even little things can add up to a mountain of tasks in no time – unless you get organized from the beginning!
Start by getting a notebook and separating it into sections for each category of your budget. As you go along, you can check off the tasks when you complete them, keep a status update on things that take more time to finish, and keep a record of the amount you are spending on each item. Tracking your money will be very helpful and assure that you are not getting too close to your budget limit – something that you will decide in the next step.
Average Wedding Cost in the US
(source: www.costofwedding.com)
7. How to Practice Good Money Management
The average wedding in the US costs over $26,000, and the chart above shows the typical breakdown of these costs with the bulk of the funds coming from the venue, catering, and all the rentals. These are not definitive amounts but can offer a spyglass into the future of your spending costs.
Balancing a budget and keeping track of the costs of an event as big as a wedding will take a lot of organization. In fact, it's even recommended to open a separate bank account to manage the wedding funds. It might sound a bit unnecessary, but it comes with the following benefits:
It's easier to save money – When you do begin spending money, you can easily track every transaction going through your account.
It's easier to balance your budget – Thanks to all those savings, you'll be able to stay within your budget limitations, or even spend a little more on the things that are important to you
It eliminates confusion about who spent what – Since all your transactions will be coming from one account, it will limit any confusion on where the money has been going.
8. Consider Cutting Corners
Although weddings can put a bit of a dent in your savings, there are plenty of things you can do to make the dent as small as possible. Here are some tips on how to save money on your wedding:
Borrow When Possible

Do you have any friends or know anyone who was recently married? They very likely acquired a few extra things they probably don't know what to do with like decorations or kitchenware. There is no shame in asking to take these things off their hands and use them in your wedding too! Also, anytime you need to purchase something – think first if you know anyone who owns a store that might be able to just lend it to you instead.

Use Your DIY Skills

One of the absolute best and, most fun, ways of planning your wedding is getting the chance to try out your DIY skills. There are plenty of times you can "Do It Yourself" and, if you have the free time before your wedding, there is no limit on what you can create. There are a host of websites that specialize in DIY ideas and tutorials. Why not try your hand at a few and really personalize your wedding day?

Limit the Luxury

Of course, this is the time for you to get everything you want, but pick a few luxury items you want the most like a limo, ice sculpture, firework show and try to limit yourself to just those items. Pick one or two show-stoppers and make them count.

Practice Moderation

With weddings, more is more, but only as long as you can afford it. It is easy to be convinced that you need to create flowers on every single surface or candelabras or crystal, but take it easy. If you push the line just a little every time, it will add up to big surprise spending.

No Impulse Buys

This is where your planning and organizational skills can come to your rescue. If you have made lists of the things you really need, then you can identify an impulse buy easily. If it's not on the list, it shouldn't make into your shopping bag. There are those certain moments where you might see something that inspires you for change, but do your best to stick with what you have planned for all intents and purposes.
9. Pick a Venue for the Ceremony
Finding the perfect venue for your ceremony might not be as simple as you think. The popular locations will book up quickly. It's possible that you have a place in mind, like a local church or banquet hall that holds sentimental value. These options definitely make it to the top of the list, especially if you have family living close by. Just for the sake of convenience, couples often choose to keep it close to home. Of course, it is entirely up to you, and even a destination wedding might be more possible than you think.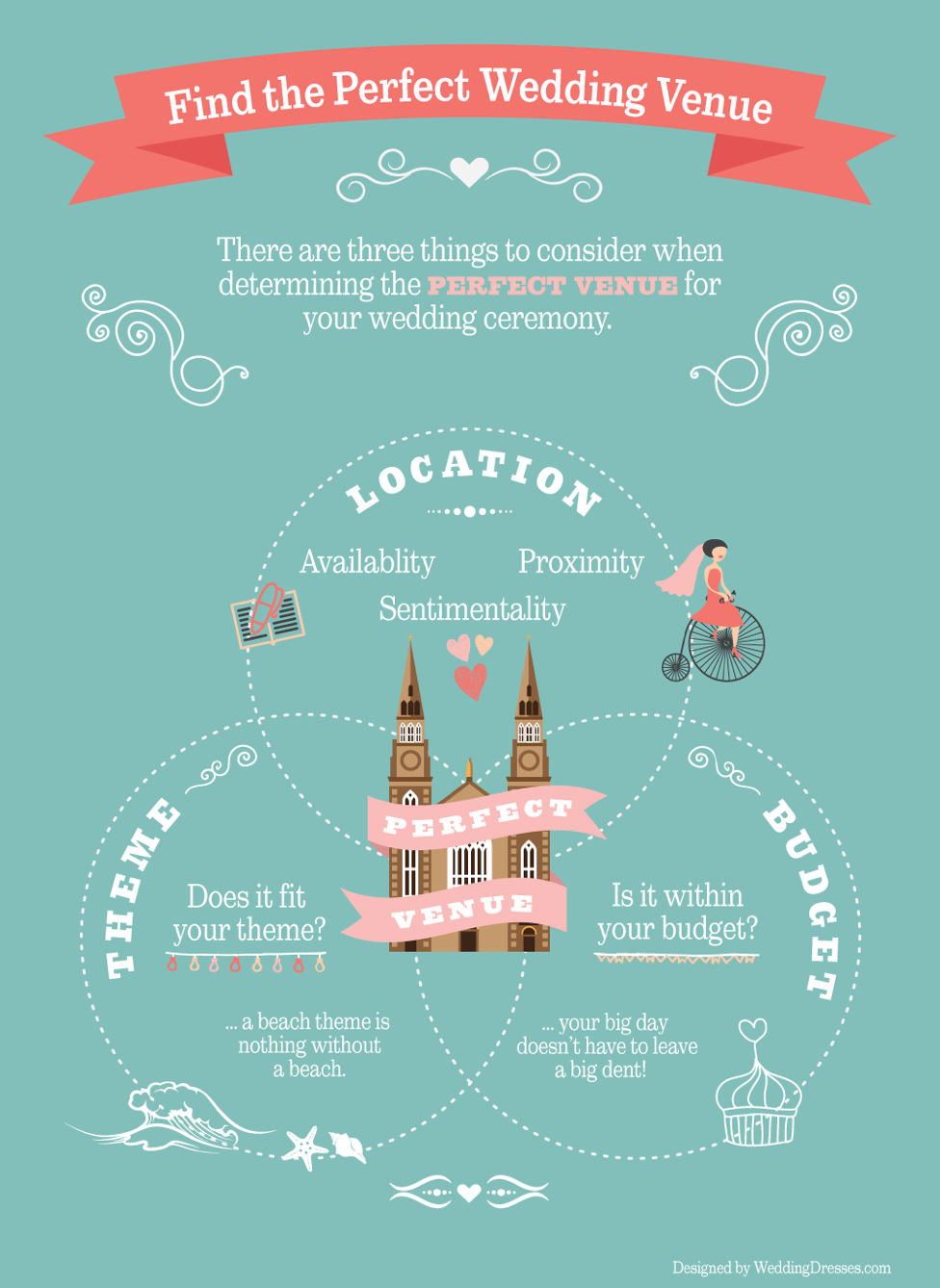 10. Pick a Place for the Reception
When you are booking a venue for your wedding ceremony, you need to keep in mind where you want to hold your reception as well. Do you want people to travel or would you prefer them to be able to walk in between? It's entirely up to you, and it's important that each event has enough space and the appropriate atmosphere you are looking for. Does your venue have a garden or outdoor area you can use? What are some local options around where you live to host a large event?
11. Make Your Wedding Guest List
It might seem early to make a guest list, but think about how many details are dependent on your total headcount.
Catering prices
Size of your wedding cake
Size of your venue
Number of tables and seats
Each guest not only represents a witness to your happy union, but also a mouth to fill with food, cake, and drinks. The more mouths obviously means more money. Taming your guest list as much as you can will help you save money and plan effectively.
12. Set the Wedding Date
Now that you know where you want to go and when your guests are available, you can actually set the date. But first, you need to decide if you want to hold your wedding on a weekday or over the weekend. Here are a few things to consider:
Weekend Wedding
Weekend weddings are more common because most people are off work. This makes your wedding easier to attend for guests who may have children or who work a 9 to 5.
If you have friends or family traveling a long way to see you, a weekend wedding will give them time to enjoy the scenery.
You may also choose to throw your wedding on a Friday, which gives you and your guests the rest of the weekend to relax. This might be the best option if you want to throw a dance party or reception that goes well into the night.
Weekday Wedding
Weekday weddings, while uncommon, are not unheard of. Let your guests know in their invitation that you understand it may difficult to attend, and to inform you as soon as possible if they can't.
For the guests that do attend, be prepared to thank them with a gift bag or some token of your gratitude; they most likely have to ask off of work to be there.
Vendors are usually slammed on weekends. Requesting a weekday will be a relief for them and cheaper for you. Just make sure you enquire about weekday discounts!
13. Hire Wedding Photographers
The sooner you can get on the books with a photographer, the better. You will likely need to book them a few months before the wedding so don't put off finding a good photographer for too long. Try and ask around to get recommendations from people you know. Photographers can have very different styles of photography, but they also have very different approaches to how they will conduct themselves during the wedding. Since the photographer will be interacting closely with your friends and family, it wouldn't hurt to have a discussion about your own expectations. Do you want them to be in the center of everything? Would you prefer them to be more on the sidelines? The more information you can gather, the easier it will be to find one that suits you.
14. Hire Entertainment
Every good reception will need some good entertainment too. When you are discussing the theme of your wedding with your soon-to-be spouse, you could also determine what kind of atmosphere you will want to have in your reception. Do you want a classy reception that stays calm and collected? Or, do you want a disco party throw down after you say your vows? It's good to know what kind of mood you want in order to help you decide which band and musicians you will be looking for. When you are meeting musicians, on top of the price, make sure to discuss your desired playlist and what you would like them to wear.
15. Order Wedding Flowers and Wedding Decorations
Coming up with the decorations for your wedding is your chance to make an experience all your own. This is the time to bring out your creativity and make your dreams a reality. Also, you should have a venue and theme for your wedding that can help aid you in the decision making process. You can find flowers and greenery that match the environment and the season.
15. Order Wedding Flowers and Wedding Decorations
Coming up with the decorations for your wedding is your chance to make an experience all your own. This is the time to bring out your creativity and make your dreams a reality. Also, you should have a venue and theme for your wedding that can help aid you in the decision making process. You can find flowers and greenery that match the environment and the season.
16. Choose from these Wedding Dresses
Picking out a gown can be one of the most joyous occasions for a young bride and some even pick one out far before their wedding day. Even if this is the case, there are some strategies that can keep buying you wedding dress a happy experience and not a stressful one.
Have a good salesperson who can give suggestions and recommends throughout the fitting
Address what you shopping habits have. Are you impulsive? Are you indecisive? Don't let bad habits spoil a good time.
Bring a solid support system with you whether that is a group of close friends, one person with good judgement, or even just your mother. Make sure you bring someone you trust but who also has a good temperament
17. Hire Wedding Catering
One thing that really can make or break a wedding more than anything else is the food. You can have the best ceremony in the best location, but if people walk away with a bad taste in their mouths, literally, it could change their whole experience. In order to pick a good caterer, you want to pick one with good reviews and test out their food before you decide, if possible. Picking a diverse and flexible caterer will ensure you get the dishes you are wanting most. Also, feel free to bargain. You can always cut out some of the dishes or hors d'oeuvres served at cocktail hour to save some cash.
A good money-saving tip to cut down on liquor costs is to create your own signature drink! Imagine having pitchers of a gourmet drink, like a nice daiquiri along with the typical lineup of beers and non-alcoholic beverages.
18. Order Your Wedding Cake
After you have made your major wedding style decisions, it's finally time to choose the star of the show, other than the bride of course – your wedding cake! You will want a cake that fits perfectly with the overall aesthetic of your venue, the season, your wedding gown, the flower arrangements, and even the menu. If you have followed these steps accordingly, these aspects of your wedding will already be determined. It would be helpful to get together some visuals for the cake decorator to refer to.
Other than the look and flavor of the cake, you also have to be considerate of the price. Wedding cakes are typically priced per slice. It's easy to get seduced by a rich chocolate filling or a multiple flavor experience, but make sure you keep your budget in mind. The more complex the flavors and the technique, the more money it will cost you.
19. Name Your Bridesmaids
It is a great honor to be asked to participate in a friend or family member's special day. There are a few things that will need to be understood when naming your attendants:
Pick as many or as few bridesmaids as you wish.
Explain how much time and energy they will need to commit
Assign what their varying roles will require, from planning the shower to paying for their outfits.
Make your maid of honor your closest friend or relative.
If you can, include a female relative of your groom. It's a diplomatic move that is good for strengthening family ties.
  20. Send Your Wedding Invitations
You have made most of the big decisions and all the gears are in motion. It's time to get the excitement generating for your big day by sending out your wedding invitations. These invitations can be a lavish or simple as you want, but there are a few key components to remember. You should announce who will be hosting your wedding – you and your partner, one of the parents, or both. Of course, don't forget to include the basics – the venue address, reception address (if it's different), and the time. Every invitation should also be paired with a return envelop and a card to send their reply.
21. Rehearsal
Rehearsal Ceremony
For weddings where the couple and wedding party will be walking down the aisle, it is definitely recommended to have a rehearsal ceremony. Wedding ceremonies with multiple components can get complicated, and the best way to ensure that everything goes smoothly is to practice it.
The rehearsal ceremony can take as little as an hour and only needs the wedding party and anyone walking down the aisle to be involved. This small commitment will go a long way on the big day when excitement is high and a room full of eyes are on you!
Rehearsal Dinner
The rehearsal dinner has become a tradition in its own right. It can be held one or two nights before the wedding depending on how much time you want to relax between. Although it's not an essential part of a wedding, it offers a wonderful opportunity for the two families to meet and get to know each other in a much more relaxed environment.
Depending on the style of your wedding ceremony, your rehearsal dinner can be a fancy occasion or casual get-together like a backyard barbecue. This is entirely up to you, and your budget. The important thing here is to give your family, loved ones, and your wedding party a little sneak peek of what is to come and more time to get better acquainted before the real fun, and work, begins.
22. Choose from the Best Wedding Hairstyles
Your wedding is not far off, and now you can start focusing on yourself. If you want to change your hairstyle entirely, it's good to do this a couple weeks before your wedding day. This will give you time to visit the stylist to come up with your perfect look and practice it. Give yourself plenty of time to plan your look. It is your big day, and it is important for you to look and feel your best.
23. Practice Your Bridal Makeup
The same goes for you makeup. You don't want to be clueless about how you will look just hours before you walk down the aisle. This is something you want to practice in advance so you are prepared.
24. Get Plenty of Sleep
This is a very necessary step. After months of preparing and working tirelessly to make everything perfect, you cannot forget to spend some time on yourself. Make sure to be well-rested the days leading up to your wedding. You never know what problems might rise up, and you want to be on your game to tackle them. You also was to look and feel as fresh as possible on your big day.
25. Exercise and Be Healthy
Although this is one of the last steps, it's a good one to maintain throughout the entire process. Even just a 30-minute walk or light job will supply you with enough energy to help you accomplish all of your tasks with a clear mind. More than that, make sure to eat healthy to keep your energy up as well. If you want to look and feel your best on your wedding day, regular exercise and a healthy diet is the best way to do it.
26. Enjoy Your Wedding Day!