With the proposal done and the date picked, now it's time to start going down your wedding planning checklist, at the top of which is tackling the all-important guest list.
As you face the mountain of decisions, one that should appear toward the top is whether or not you'd like to involve kids in your wedding. The etiquette of kids at a wedding is a tough one — in fact it's easier to figure out how to involve your dog in your wedding than it is to determine whether kids would add or detract from your big day.
To help you with this decision, we've pulled together a few suggestions for both sides of the fence — involving kids in your wedding or having no kids at your wedding.
Choice #1: No Children at Your Wedding
There are many reasons why you may not want to include children in your wedding, starting with hosting a wedding on a tight budget. Every mouth adds up and you might have to preclude children out of sheer necessity.
Your decision may also be one of simple preference—let's face it, children can change the atmosphere of a wedding considerably and you may want to make sure you have time to celebrate with family and friends without distraction.
Whatever the case, you'll likely need to soften the blow with a carefully-worded invitation and avoid a "no kids allowed" command. To do this, you can try an honest approach, or a humorous one, such as:
The bride and groom request that the reception is adults-only. Thank you for your understanding.
All guests must have a valid driver's license (hint, hint)
While we love children, we ask that you help us celebrate this occasion without them
Due to budget (or space) constraints, we ask that only adults attend
Queue up that Disney movie—this is an adults-only wedding
If you're sending a Save the Date announcement, that's the perfect opportunity to put a personal note about no kids at your wedding, giving your guests a chance to plan ahead. You can also send out an email to parents beforehand addressing the matter.
And you may need to stick to your no-kids policy, without exception. Many parents can't imagine going anywhere without their children, especially new parents. If you cave to the pressure to allow one child at your wedding, you may feel resentment from others. Ultimately, the no-kids-allowed rule should apply across the board, even if it means that some friends may not be able to attend.
Lastly, and not to confuse matters more, you may want to entertain the idea of allowing children under 12 months old to your wedding since new parents may need to be on call to attend to newborn needs.
Choice #2: Splitting the Difference
If you don't mind having kids at your wedding, but you're concerned about their entertainment and their parent's ability to enjoy themselves, there are ways you can accommodate guests of all ages:
1. If you know the wedding ceremony is going to be long, have an option on your invitation for people to attend the reception only. Neither you nor the parents want the cries of a baby overshadowing the proceedings. If you give parents a chance to opt out of the wedding ceremony and attend only the reception, both you and your friends may breathe a sigh of relief. You can indicate this option directly on your wedding invitation in the RSVP area with:
We will be attending the wedding and reception
We will be attending the reception only
2. Another way to encourage your friends with kids to help you celebrate, without having to chase children around all night long, is to hire a babysitter (or two). If you go this route, create an area where parents can drop off their kids, allowing them to go enjoy the ceremony and reception. This requires some planning on your part, but it also allows you to spend quality time with the people you love.
Having Kids at Your Wedding
If you find that the laughter of children adds to any occasion, say as much on your wedding invitation. For example:
Children (and adults) of all ages are welcome to our wedding
You're welcome to bring your children to our wedding—we promise to have enough cake
The presence of you and your family is requested…
For your reception, you may want to add a more fun flair, knowing that children love nothing more than to get on the dance floor and eagerly await the chance to have some cake. Have your DJ or band play some songs that everyone recognizes, getting every generation in on the fun. You can also set up a table with small cupcakes that children can dive into instead of having to wait anxiously for the cake-cutting.
When it comes to fun and creative menu options for your wedding, it's hard enough to consider all the different dietary demands people have without throwing kids into the mix. From gluten-free and vegetarian friends to your steak-eating, carb-loving adventure buddies, kids should be the least of your concerns. Parents are usually very adept at putting together a plate for their own finicky eaters.
Choice #3: Having kids in Your Wedding
If you want to go full Kate Middleton, complete with page boys and adorable flower girls, talk to your friends about involving their children in your wedding. Girls love nothing more than dressing up for a wedding and they add a wonderful, whimsical component with a little imagination.  This also requires a little more planning, but commandeer the help of the parents to figure out how to get the best out of their kids. After all, they know them best.
To get you started, here are some ideas for involving kids in your wedding and reception that go beyond the standard flower girl and ring bearer:
Let them help people find their seats at the wedding or reception
Give children cameras and have them take pictures
Enlist them to give out the cake slices or party favors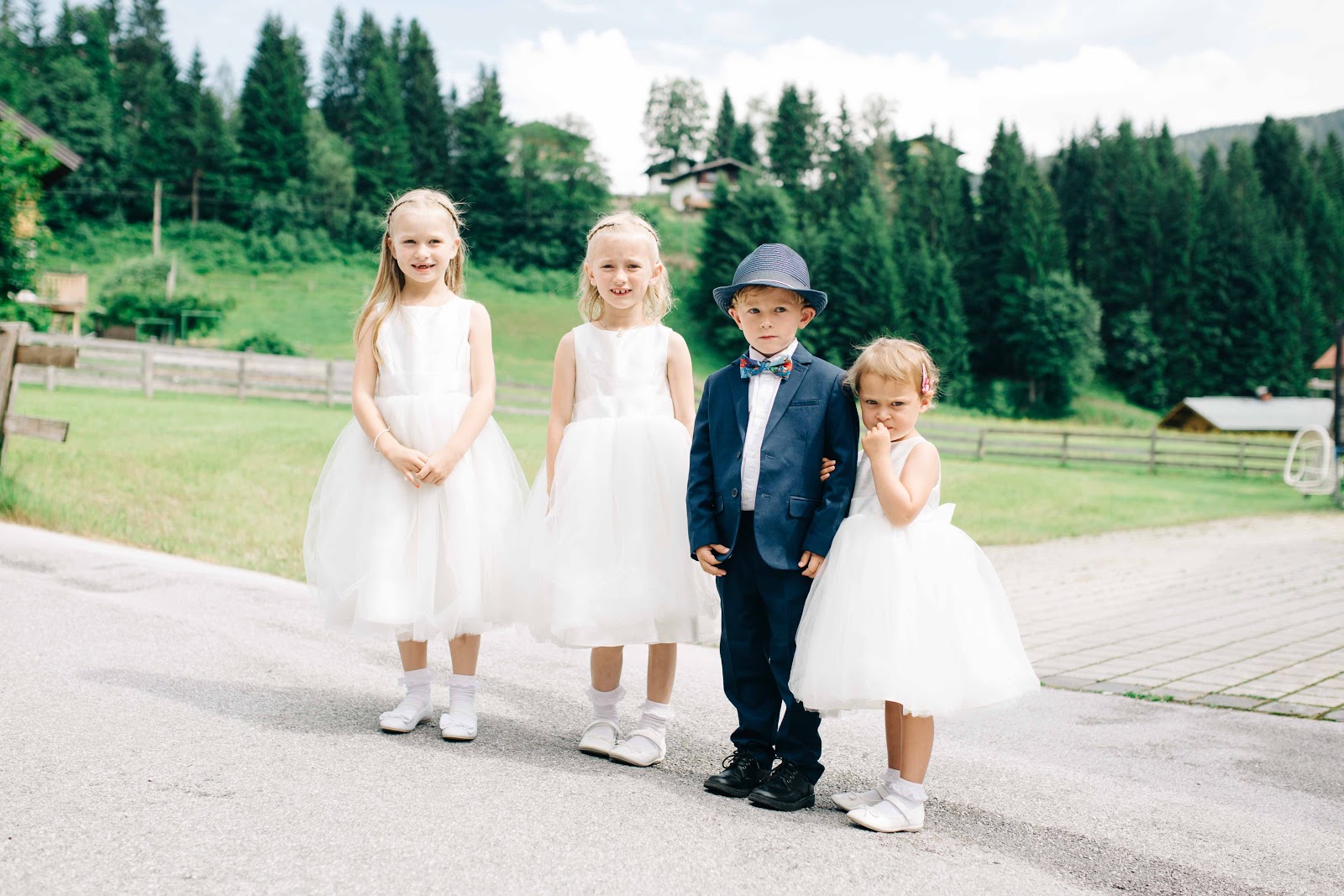 Kids love feeling like they're a part of something and they can add charm to your event in many ways.
When kids are involved in your wedding, be prepared for whatever may happen, and allow for the fact that everything may not be perfect. Odds are that nothing can spoil your day and a hiccup here or there just makes the event all the more memorable. Besides, when it goes off without a hitch, you'll have generations of guests having the time of their lives.
Once your big day finally arrives, you're going to want to run down our Wedding Day-Of Checklist to make sure the ceremony is flawless.
Don't forget to follow us on Instagram and take a look at our Pinterest page for more great wedding ideas!